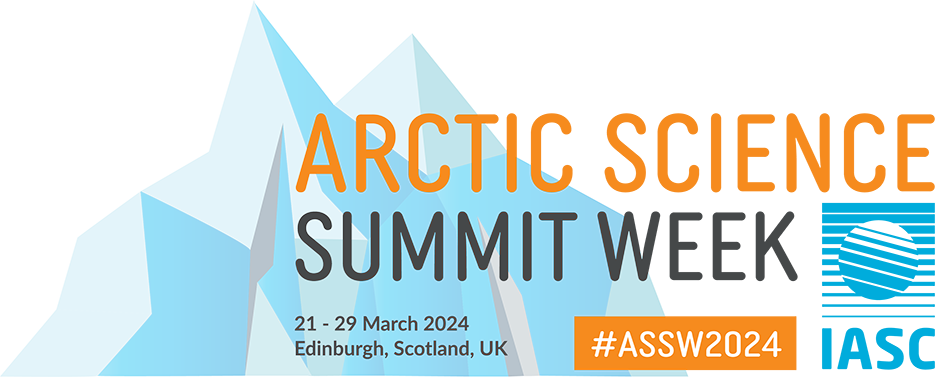 21 February 2023 | 14:00 - 15:30 (GMT+1)
21 February 2023 | 16:00 - 18:00 (GMT+1)
Open Session - HYBRID
Room: Hörsaal 7
Session Conveners: Anthony Speca (Trent University / UArctic Læra Institute for Circumpolar Studies, Canada); Sennan Mattar (Glasgow Caledonian University, UK)
Session Description:
This session is devoted to educational innovation and pedagogical scholarship related to the Arctic or Circumpolar North in university, school or community contexts. We invite papers not only on regular classroom teaching, but also on online delivery (e.g. the UArctic Circumpolar Studies Programme) and on experiential and other forms of learning (e.g. Model Arctic Council, outdoor learning, land- or community-based learning, etc). Papers may focus on any learner group, whether children, youth or adult learners. In keeping with the ASSW 2023 theme of ´The Arctic in the Anthropocene´, one primary goal of this session is to explore how teaching and learning about the Arctic can best promote understanding of the Arctic's place in both the human community and the planetary physical system. We welcome papers on the educational role of the Arctic Anthropocene concept, as well as of other Arctic 'framings' or 'imaginaries', whether positive or negative. Also welcome are papers on topics such as civic education, environmental competence, learning for sustainability or climate justice, and the like, as well as papers concerning how education can promote constructive thought and action in the face of Anthropocene-related concerns such as 'eco-anxiety' or 'climate doom'. Papers may deal with either conceptual or practical learning, including skills learning (e.g. practical, communication or leadership skills) or character development (e.g. self-confidence, leadership, coping with stress, etc). We encourage papers that take an interdisciplinary approach, including the Arctic humanities, social sciences and natural sciences. We especially encourage papers in the field of Indigenous Knowledge education, or papers that aim to bridge Western and Indigenous epistemologies. Finally, we hope that this session will go some way to promoting international linkages and the sharing of best practice between educators concerned with the Arctic or Circumpolar North.
Presentations:
unfold_moreIntroduction to the UArctic Læra Institute for Circumpolar Education

Anthony Speca
Trent University

unfold_moreIntroduction to Polar Educators International

unfold_moreEducating future Arctic and climate change practitioners via scenario-based education: case study from UiT's International Emergency Preparedness Programme

Dina Abdel-Fattah1; Linda Stakkeland1; Aud Solveig Nilsen1
1UiT - The Arctic University of Norway

Abstract:

Climate change is radically changing how we understand and perceive our world as well as how we study and prepare for the challenges connected to it. The need, therefore, for cross-cutting knowledge, expertise, and collaboration has proven more important than ever. Educational and pedagogical innovation, particularly those centred in and on the changing Arctic, is imperative to ensure the next generation of scholars and practitioners are well equipped for increasingly complex and interrelated challenges. This session will present UiT - The Arctic University of Norway's International Emergency Preparedness Bachelor's program, which focuses on how to best prepare students to be future practitioners in a broad range of careers that intersect with climate change-related challenges, specifically but not limited to those in an Arctic context. We discuss how to support students to learn how to analyse risk and develop appropriate solutions, regardless of the crisis faced. Precisely, our students gain a mastery of different skills that can be applied in different hazard scenarios, while managing uncertainty and working across different disciplines, sectors, and cultures, with a special emphasis on the Arctic. We provide a glimpse into how scenario-based education gives students an applied perspective and opportunity to practice their in-classroom learning via highlighting exercises we offer with regards to wildfires, emergency logistics, and climate change adaptation in the Arctic. Furthermore, we illustrate how we employ professional mentors in developing, implementing, and evaluating our exercises, to enhance student learning outcomes and to stimulate the authenticity of our exercises.

unfold_moreThe Scotland Model Arctic Council

unfold_moreFighting Epistemicide 101: An Educational Program for Early Career Polar Scientists before Engaging with Local Arctic Communities

Larson Kaidel
Dartmouth College

Abstract:

While scientific research strives to benefit society at large, a higher standard of inclusion must be met in the modern era of intersectional research. Science serves society in two ways: by increasing knowledge and by finding solutions to human problems. Modern researchers must incorporate the goal of sustainable practices to ensure scientific benefit for all participants. Meaningful and sustainable projects begin even before project generation (Kanatami, I.T., 2018). Early career scientists should be educated on the history and dangers of Native disenfranchisement in polar research prior to beginning their own research projects. This presentation aims to address the first step of building sustainable projects. Community-based participatory research should emphasize cross-cultural exchange, sustainable relationships, and preservation of Native control. Working with/in local communities requires a certain degree of additional education prior to engagement. This presentation discusses the prerequisites for planning research projects that involve interactions with local communities. The proposed educational program incorporates basics in Western vs Native epistemologies, historical misrepresentation of Native knowledge, and intellectual colonialism. Further material is provided on Native recommendations for appropriate engagement with local communities.

unfold_more"We are of the world now" An Examination of Digital Education Expansion and Access in Canada's Yukon Territory

Lisa Jane de Gara
University of Edinburgh

Abstract:

In 2016, the Yukon had Canada's slowest median internet access at a download speed of 5Mpbs (CIRA, 2016). The territory is also home to Canada's newest university. Yukon University, formerly Yukon College, was established as a degree-granting university in 2020. As in many of Canada's rural communities, the lack of adequate internet access in 2020 inhibited online learning at the height of COVID-19 isolation. Many Yukon students studying from their home communities struggled to access lectures and online learning materials due to internet access and internet speed. In response to pandemic need, the Government of Canada offered grants to improve internet speeds, which were allocated in 2020 and executed in 2021. This has increased access to broadband internet dramatically (CRTC, 2022). Now, the four largest communities (Whitehorse, Dawson, Watson Lake, and the Indigenous community of Upper Liard) have broadband access, the latter three for the first time, representing 72% of the territory's population (Northwest Tel, 2022) The timing of both events has put digital education at a unique crossroads in the Yukon. Digital infrastructure and academic access are broadly new to the territory. What was students' initial experience of online learning during the COVID-19 pandemic? Has this changed substantially with broadband availability? This presentation uses the experiences of Canada's first Territorial university as a jumping-off point for discussion about expanding infrastructure and education in Arctic Regions.

unfold_moreCivic Education and the Circumpolar North: Anti-colonial approaches for teaching in and about the Anthropocene

Jason Young1; Nadine Fabbi1; Michelle Koutnik1; Chase Puentes1; Kayla Stevenson1
1University of Washington

Abstract:

This talk will present initial findings from a collaborative project that is developing an interdisciplinary research agenda for teaching civic education for and about the Circumpolar North. Civic education has long been a cornerstone of democratic societies and is designed to cultivate the deliberative and leadership skills needed to respond to difficult challenges. These are skills that Arctic stakeholders need as they navigate the unprecedented changes that define life in the Anthropocene. Unfortunately, there has been little systematic development of civic education curricula tailored to the Arctic. There is a need for educational spaces that build the capacity of northerners and southerners to work collaboratively to address global climate change and other environmental disturbances impacting the Circumpolar North. This project addresses that need by carrying out a series of workshops to develop an actionable research agenda on Arctic civic education. An interdisciplinary and international team has explored the following questions: (1) What key elements should define circumpolar civic education? (2) How can civic education be designed and implemented in anti-colonial ways? (3) How can educators leverage civic education to bridge distance and encourage circumpolar cooperation? This talk will describe initial themes, questions, and approaches that emerged out of the first four project workshops, highlighting promising directions for the development of circumpolar civic education. These educational approaches have the potential to transform how Arctic stakeholders, from Indigenous youth in the North to graduate students in the South, lead and collaborate on solutions to Anthropogenic transformations in the Arctic.

unfold_moreEngaging Rural and Alaska Native Undergraduates and Youth in Arctic STEM

Janet Warburton1; Helen Wiggins1
1Arctic Research Consortium of the United States

Abstract:

The Arctic is undergoing rapid and significant changes. These changes require communities to be aware, informed, and involved to be able to address complex environmental, economic, and social challenges with their associated Arctic science, technology, engineering, and mathematics (STEM) needs. These challenges require a diverse workforce with different backgrounds, perspectives, and knowledge to develop responses to new and emerging issues. In particular, there is a greater need for better representation of rural and Alaska Native undergraduate students in STEM programs to ensure a more diverse Arctic STEM workforce. To address this issue, a virtual workshop was held from April 13–15, 2021. The goal of the workshop was to bring together rural and Alaska Native undergraduates and youth, federal agency representatives, researchers on Arctic STEM projects, Indigenous faculty and staff, those from the private sector, and rural Alaska community members to discuss the gaps, challenges, opportunities, and successful practices to increase and support the representation of rural and Alaska Native undergraduates and youth in STEM education and career pathways. The workshop was unique in how it was structured including a series of Listen and Learn Sessions that were held before the workshop to set foundational themes and draft recommendations to be discussed and refined during the workshop; a diverse workshop planning team; and a structure that was conductive to bringing the attendees to together for discussion. In this presentation, we will share the workshop highlights and the final set of recommendations on how to better engage youth in Arctic STEM that is culturally relevant.