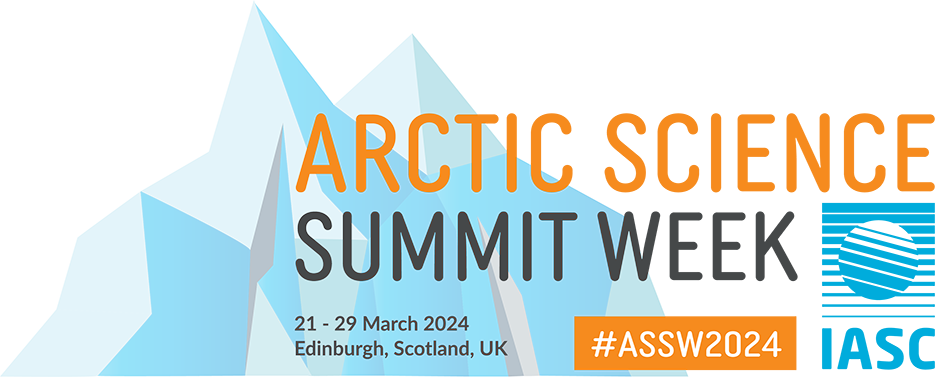 22 February 2023 | 08:30 - 10:00 (GMT+1)
Open Session - HYBRID
Room: Hörsaal 2
Session Conveners: Lisa Grosfeld (Alfred Wegener Institute, Germany); Louise Mercer (Northumbria University, UK)
Session Description:
Arctic research is moving more and more towards being application-oriented and based on the needs of the people who directly face the impacts of accelerating change in the Arctic. Continued progress requires the shift towards capacity sharing (a two-way sharing process) instead of capacity building (a one-way sharing process) between researchers and different groups of rights holders and stakeholders in the Arctic. Capacity sharing is a two-way, multi-directional exchange developed on the basis of reciprocity, communication and collaboration. Creating spaces to collaborate and learn from each other will lead to more equitable research outcomes and better science. This ASSW session provides a space to discuss effective approaches by facilitating intercultural and transdisciplinary dialogue to better understand the true value of capacity sharing in research processes. The session is mainly aimed at supporting early career researchers (ECRs) and Arctic youth, but we encourage researchers from all career stages to share experiences and examples of best practices when collaborating with different rights holders and stakeholders of the Arctic. We hope bringing together diverse individuals, including Indigenous community members and researchers of different career stages will help to connect and to shed light on this topic.
Presentations:
unfold_moreLearning to listen: at the core of the coproduction of knowledge

Saara Sipola
Norwegian Polar Institute

Abstract:

In this presentation I would like to share some of the lessons I've learned as a student during my fieldwork, field visits and travels across the Arctic, to Greenland, Canadian Eastern Arctic to Sápmi. Prior to fieldwork my focus was on the publications, text and statistics, about agriculture, farming and food security in Inuit communities. After arriving in the field, I understood that text and statistics were not in the focus of the people I worked with, instead it was on physical work outdoors, stories and memories. I was welcomed to participate in everyday life and share the space but without any readymade answers to my inquiries. The biggest challenge was attempting to translate silence into words. There are dos and don'ts, best practices, research ethics and etiquette to follow before, during and after fieldwork. Success is dependent on the researcher's ability to respect local worldviews and local needs for research input. The ability to see and seek connections what is relevant for both sides – in order to contribute to value exchange, better integration of Arctic science and coproduction of knowledge demands more time in the planning phase but pays off in serving the mutual long-term goals. In this presentation I would like to illustrate with few examples from the farming and agriculture sector in the Arctic, how the act of coproduction of knowledge can sometimes be lost - and found.

unfold_moreCo-development of contaminant monitoring to improve strategic decision-making

Louise Mercer1; Paul Mann1; Deva-Lynn Pokiak2; Michael Lim1; Dustin Whalen3
1Northumbria University; 2Hamlet of Tuktoyaktuk; 3Natural Resources Canada

Abstract:

Climate-driven landscape change, legacy waste and ongoing infrastructural investment are leading to concerns around water quality, habitat degradation and contaminant release in Arctic communities. Sustainable development considering threats posed by accelerating environmental change requires immediate and longer-term key strategic decision-making. This has been hindered by mismatches in priorities and timelines between communities and research programs. These challenges highlight the importance of advancing collaborative partnerships and capacity sharing to promote resilient and sustainable environmental monitoring approaches. Community-based monitoring (CBM) has become increasingly common across Arctic research, however current CBM models have specific limitations that impact program effectiveness and the translation from data collection into decision-making. We highlight key elements of community-based research programs that can both enhance or limit the longevity of programs including data utility, funding structures and roles within community-based research programs. We outline an evolving community-based research program addressing contamination threats posed by the legacy of infrastructure like industry, transportation routes and waste. The co-development process will be discussed from the perspectives of an Inuvialuit Knowledge holder and a non-Indigenous early career researcher trained through conventional scientific research processes. We show how different capacities and insights from diverse knowledge systems came together to guide baseline data collection that will inform the next iteration of the program towards appropriate and effective decision-making.

unfold_more

Communication with national and regional policymakers in the Arctic: experience for future two-way sharing processes in science communication

Pavel Tkach
University of Lapland

Abstract:

During the first year of the Arctic PASSION project and the participation of the University of Lapland in the project, the author carried out more than twenty interviews with experts and policymakers across the Arctic. Primarily, experts and policymakers were interviewed for subsequent capacity building of the current and future scientific projects by pointing out existing knowledge gaps; identifying approaches and methodologies introduced in various Arctic regions. Nevertheless, mentioned communication also had a place for capacity sharing. First, capacity sharing has been observed in the exchange of regional perspectives and features that took place in several interviews. For example, in the interview with experts from one Arctic region, we shared features of management of the particular issues in Finland or already acquired knowledge about approaches integrated in the other Arctic regions. Second, some dialogues included the exchange of opinions about innovative and up-to-time solutions capable of positively affecting environmental and climate management in the Arctic. Young people and early-career researchers hold a special role in future mutually beneficial collaborations because of the way they think and analyse data. In our work, we typically focused on two problems while analysing information from interviews: how to use this information practically and how to make it fashionable and entertaining for others. What, however, can young researchers bring to enhance two-way sharing procedures in communication? Based on the already carried out communication, the author will answer this question and share insights and examples of knowledge exchange in interactions with Arctic policymakers at this session.

unfold_moreSharing Circles as a way to facilitate capacity sharing across generations and cultures

Lisa Grosfeld
Alfred Wegener Institute

Abstract:

We present an approach towards starting intercultural and transdisciplinary dialogue in the frame of the EU project Arctic PASSION. The format of a Sharing Circle for early career scientists and Arctic youth will be presented and discussed. This activity was driven by the project's principle surrounding intercultural capacity sharing. The concept of the Sharing Circle has been co-created from the beginning with early career scientists and the Indigenous community where the event will take place. Discussions held in indoor and outdoor settings will help facilitate transdisciplinary dialogue and two-way, cross-cultural knowledge sharing. It is hoped that the next generation of Arctic scientists will gain an understanding of the importance and complexity of relationship building and early dialogue early in research processes. Thus, leading to more inclusive, cross-sectoral and cross-cultural research in the future. Lessons learned from this Sharing Circle will help guide Arctic PASSIONs progress forward and will hopefully impact future research collaborations beyond the group of participants, as these will spread the messages in their home countries afterwards.