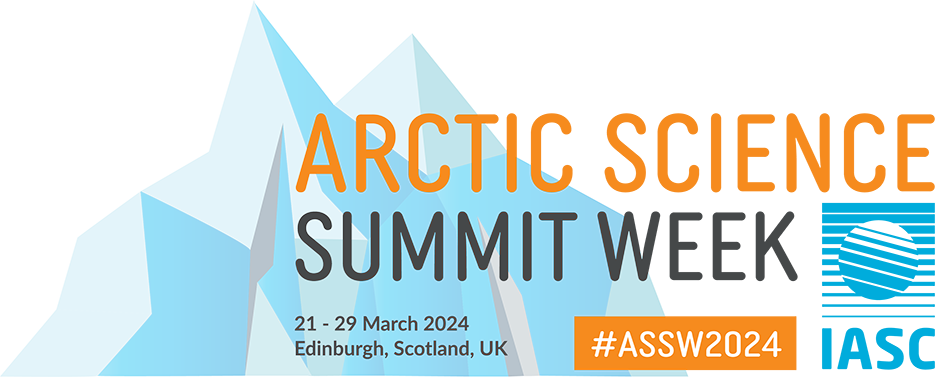 23 February 2023 | 08:30 - 10:00 (GMT+1)
Open Session - HYBRID
Room: Hörsaal 7
Session Conveners: Maribeth Murray (University of Calgary, Canada); Peter Pulsifer (Carleton University, Canada); Shannon Vossepoel (University of Calgary, Canada)
Session Description:
The long-term challenges and needs for resilience and adaptation presented by the Anthropocene require innovative, transdisciplinary, and cross-cultural innovations and solutions. From local to global scales, we are observing and experiencing unprecedented change across domains including social, physical, biological, and economic. Solutions will require the effective, efficient, and principled sharing of information and data among Arctic residents, researchers, decision makers and the broader global community. Data sharing initiatives often refer to principles such as FAIR (Findable, Accessible, Interoperable, and Reusable) and CARE (Collective Benefit, Authority to control, Responsibility, Ethics) Principles for Indigenous Data Governance. We invite contributions and perspectives on your journey towards principled data and information sharing including examples of efforts that have succeeded, those that have failed to produce expected results, ideas on requirements or ways to improve the sharing process, and critical perspectives on the risks or unseen implications of data and information sharing.
The Canadian Consortium for Arctic Data Interoperability (CCADI) is an initiative to develop an integrated Canadian arctic data management system that will facilitate information discovery, establish sharing standards, enable interoperability among existing data infrastructures, and that will be co-designed with, and accessible to, a broad user base. In this session, a number of invited talks will share experiences of CCADI members, including research data centres, an Indigenous representative organization, private sector partners and government agencies, in their efforts to enhance data and information sharing. CCADI members encourage others to share their work and achievements through participation in this dynamic session.
Presentations:
unfold_moreThe Polar Federated Searches Impact on Data Mobilization and Discovery

Chantelle Verhey
ISC- World Data System

Abstract:

A federated search enables users to utilize a single interface and through one query, search for data from multiple metadata catalogs. The system sends the search out to multiple data providers and waits for a response, then compiles and organizes the results for review by the user. Polar Data Discovery Enhancement Research (POLDER) is a collaboration between the Southern Ocean Observing System, Arctic Data Committee, and Standing Committee on Antarctic Data Management. For many data types, there is no realistic prospect of standardizing and aggregating the data itself at this time; therefore, federated metadata search is the only viable way to make these datasets easily discoverable, and so maximize their value. The Polar Federated Search tool is about to finish its first full production year, and we are excited to announce that the search now supports spatial, temporal, and faceted searches. It harvests schema.org mark-up to expose various repository metadata in a single user interface. This shift marks a major milestone in the Polar data management community as we continue to work to ensure data adheres to the FAIR principles. This session explores the technologies used in the tool, the best practices documentation, and impacts/benefits to the wider scientific community.

unfold_moreStandards and Protocols within the Canadian Consortium for Arctic Data Interoperability

Shannon Christoffersen1; Maribeth Murray1; Peter Pulsifer2
1University of Calgary; 2Carleton University

Abstract:

The Canadian Consortium for Arctic Data Interoperability (CCADI) consists of partners from academic, Inuit, government, and non-profit institutions. Created in 2015, this diverse partnership has established an excellent forum for working with the Arctic's multidisciplinary data. With funding from the Canadian Foundation for Innovation, CCADI has been working on use cases for connecting Canadian Arctic data across systems. Much of what CCADI has been able to achieve in sharing data and information across systems is due to shared standards, protocols, vocabularies, and semantic relationships. In addition to connecting data within the CCADI network, CCADI has also worked with international partners to ensure that the outcomes of these initiatives are scalable to support future data sharing initiatives globally.

unfold_moreOptimizing Polar Observing with Asset-Level Metadata Interoperability Across Networks

William Manley1; Christoph Wohner2; Other Members Polar Observing Assets Working Group3
1University of Colorado Boulder; 2Environmental Agency Austria; 3various

Abstract:

A fundamental challenge exists for assessment, planning, and synthesis of Arctic observing. Assets such as sites, tracks, observatories, projects, and programs are deployed in a diverse and distributed fashion across numerous observing systems. At this time, it is difficult to strategically assess status, overlap, and gaps because most inventories and portals are limited in scope. Furthermore, only a fraction of observing systems share information about observing assets in a way that can be accessed, harmonized, and aggregated for a comprehensive perspective. To help address this challenge, a new Polar Observing Assets Working Group has been formed under the SAON Committee on Observations and Networks (CON). This group builds upon steps taken by the polar data community for the interoperability of "dataset-level" metadata, but in this case for discovery-level details in "asset-level" metadata. The group will identify and promote best practices for the use of relevant metadata standards, controlled vocabularies, crosswalks, federated search, and linkages to scientific datasets. For more details on three identified tasks, see https://www.polarobservingassets.org. Outcomes will make it easier for networks and planners to avoid duplicated effort while optimizing resources. Participation is open and encouraged, and will help to showcase and integrate the summed contributions of multiple systems.

unfold_moreMaking Genomics Data Accessible to Benefit Arctic Conservation and Biodiversity: Legal, Ethical, and Knowledge Challenges

Maribeth Murray1; Peter Pulsifer2; Anna-Maria Hubert1; Srijak Bhatnagar3; Eric Solomon4; Shelly Elverum4
1University of Calgary; 2Carleton University; 3Athabasca University; 4Ikaarvik

Abstract:

In this presentaation we review different approaches to sharing data and information from genomics research on Arctic wildlife with diverse end users for the widest possible benefit and in the interest of environmental management and the sustainable and equitable use of living resources. We focus on outcomes from research on when and how genomics data can or should be used, legal and ethical issues associated with deployment of genomics data in the Arctic, specifically with respect to wildlife, data sharing, data comprehension, use of data, societal value, and public policy. Use of genomics data can be challenging and even controversail if conservation interests conflict with other interests but conflict can be minimzied through a collaborative, co-design and co-execution approach. A major challenge is interoperability of both data sets and human actors. Concepts and associated teminology can differ across communities, cultures, worldviews and places. These differences can result in a lack of cross-community understanding and reduce or elimate the ability to share information for improved decision making. Cyber tools can mediate cross-community understanding, and be used to generate different representations of data for different audiences and support effective communcation, and effective management and preservation of criitical data sets while ensuring pricinpled sharing and Indigenous data sovereignty.

unfold_moreEnhancing the usefulness of data sharing tools through exchange and collaborative learning

Noor Johnson1; Matthew Druckenmiller1
1University of Colorado Boulder

Abstract:

The Exchange for Local Observations and Knowledge of the Arctic (ELOKA) was initiated in 2006 to facilitate the collection, preservation, exchange, and use of local observations and Indigenous Knowledge of the Arctic. In 2021, ELOKA began a new phase of work focusing on enhancing the use and usefulness of community data management and sharing tools. ELOKA initiated working groups for exchange of knowledge on two themes: 1) long-term observations and 2) place names and cultural knowledge. Knowledge sharing and exchange among community-focused projects is underway, feeding back into tool development for principled data sharing. ELOKA is also developing a learning and evaluation approach drawing on insights from Indigenous methodologies that will inform how we assess usefulness and share lessons learned. Through our contribution to this session, we will review approaches to data stewardship with a focus on partner needs and priorities that ELOKA has developed over time and provide updates on current activities emphasizing network-building and shared learning.